Since the Great Hanshin Earthquake of January 17, 1995, which claimed more than 6,400 lives, the frequency of earthquakes in Japan has grown immensely. If we compare and contrast the number of earthquakes occurring twenty years before and after the Great Hanshin Earthquake, it shows that both the frequency of such disasters and the number of fatalities have increased threefold.
The worst disaster in recent times was the Great East Japan Earthquake and Tsunami of March 11, 2011, which caused untold misery and severe damage to the coastal area of Tohoku, covering 561 km². More than 19,000 people were killed and about 115,000 homes were destroyed.
The CCCJ took steps to help immediately following the Great East Japan Earthquake and Tsunami by creating the Disaster Relief Volunteer & NPO Support Fund (VolSup). When channeled to the government, the money raised takes the form of donations which are distributed directly to victims of the Tohoku disaster, based on factors such as their assessed level of need and the damage wrought. It should be noted that victims need not only cash, but also many other forms of help—psychological support and counseling being key requirements.
The VolSup Fund supports NPOs and their activities to provide help to victims. Calamities not only cause suffering for those directly impacted, but also worsen a range of existing problems, such as alcohol dependency, domestic violence, and child poverty. The funds for Tohoku collected to date total ¥4.5 billion, and have been used to support 2,950 disaster relief programs reaching close to 5.5 million people.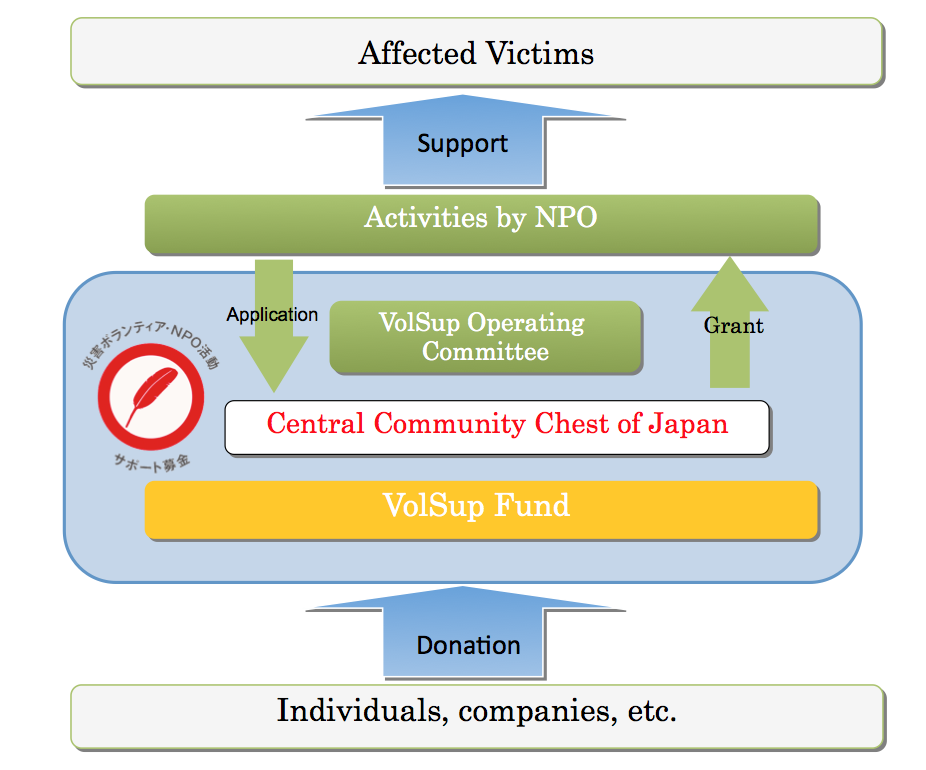 In response to the Kumamoto earthquakes of April 2016, the CCCJ established VolSup Kyushu. Through this fund the organization will support those affected as they rebuild their lives and get back on their feet. We invite you to partner with us to achieve this goal.
VolSup Kyushu: First Grant Results (September 2016)
Number of NPOs receiving grants: 88
Total amount received: ¥155 million
Activities/Assistance:
Support shelters
Debris disposal
Soup kitchens
Childcare
Mental care
Community activities, etc.